1996 : The Last Shout (Parts 1 & 2)
Her dolphin has 'fin-flop'. Patsy is homeless. Saffy has a boyfriend, but is he oppressing her? Life is closing in, Eddy needs a ski-ing holiday - but is this a good idea? Eddy meets God, but she is not the second coming, so she resolves to help Saffron get married - but is this a good idea?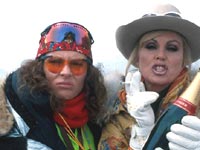 2002 : Gay
Move over Donatella! Make way Gisele and co! It's time for Eddy and Patsy in this feature lenght special. With London Fashion Week under their diamante-studded belts, New York beckons in all its kitten-heeled glory.
Executive Creative Director, Cheif Buyer and Lifestyle Co-ordinator, Patsy is in her element. Her brand new concept fashion store Jeremy's - the shop for "rich bitches whose faces have been pulled so tight they can't see what they're buying" - should get her in the front row of the champagne tent at least.
Meanwhile Eddy is eager to see her lovely son, Serge, again after 12 years - especially now she's found out he's gay. After all, what better companion can a girl have for New York fashion week?
The only problem is, Eddy has to find him first and the one woman with Serge's address - gay counsellor and same sex wedding specialist Goldie - is adament: no wedding, no information. But will Pats be prepared to say "I Do" in the interests of maternal love?
| | |
| --- | --- |
| | |
2004 : White Box