Jennifer Saunders
Jennifer Saunders has had some formal education, but no acting training at all. She did not attend RADA, LMADA, Rose Burford or the Sylvie Starlight Stage School. Despite this she has been widely auditioned and has worked extensively in showbusiness with many of the top-of-the-leauge personalities, celebrities, and stars (e.g. Lulu). Many have since become close personal friends (e.g. Lulu).
Film credits: Many, many, many including The Supergrass.
Chat Show credits: All the biggies, Des, Clive, Wogan, and the lovely Gloria Hunniford.
Theatre credits: Has worked extensively in Theatres and Art Centres up and down the country. In 1979 she tore ticket stubs at The Roundhouse and sold sandwiches at the Theatre Erotica in London's famous "Soho".
TV credits: The Comic Strip Presents, Happy Families, Girls on Top, French and Saunders, The Full Wax, Watchdog! Points of View, Beadles About, and What's On South West Regional News Tonight!
Audition credits: Creature in Bar in Star Wars (Didn't have own costume), Emma Thompson in Howard's End (Her costume was obviously better), Whoopi Goldberg in Ghost (So close! Down to the last 300). Title role in Reservoir Dogs (Jennifer will not work on all fours), Sharon Stone in Basic Instinct (wore knickers), The Borrowers (too tall).
She enjoys her work, despite the close proximity of Dawn French. Dawn has been a millstone around her neck, (not to mention her career) since they first met at collage over 25 long, long, long years ago.
Jennifer hopes that Dawn will be offered some more solo work soon, so that she will be free to work with artistes of greater calibre and stature (e.g. Lulu). Jennifer lives at home. Her husband and three children do exist, and live there too. They all get along very well and are looking forward to the new french windows.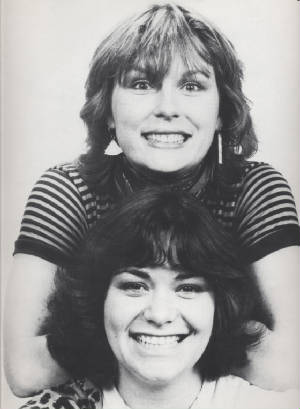 Dawn French
Dawn French was born a female. She was twelve stone at birth and is proud that she has remained the same ever since, which is exactly the right wieght for her size. Soon after birth, she met a fat girl called Jennifer and they formed a comedy double act called French and Saunders. They joined the comic strip performing live in Soho (not striptease.)
This opportunity led to many average to poor performances in many films for TV with the rest of the Comic Strip tea, all of whom she slept with when drunk (including Jennifer).
Other TV includes: Girls on Top (Central TV), French and Saunders (6 series BBC), Scoff (Channel 4), Swank (Channel 4), Happy Families (BBC), Murder Most Horrid (BBC), Tender Loving Care (Screenplay BBC), The Lenny Henry Show (BBC), The Young Ones (BBC).
Her proudest TV achievement was the chance to play a cameo role (which was severely cut, incidentally) in Joanna Lumley's wonderful new award-winning comedy vehicle Absolutely Gorgeous (BBC 1992).
She is presently enjoying the height of 5' 1/2" in stockings and 8' 4" in platforms.
She Lives in huge and lavish comfort near Reading with six televisions, one comedian and one small sub-human child.
Her hobbies include: Colonic irrigation, Jazz/Tap Grade 1, Meat appreciation, Nosey Parking.
Accents she can do: West Country (specifically Plymouth area), Posh London, Common London, Trinidadian, Reading and Slough District.
Dawn is thourghly enjoying working with her talented comedy chum Jennifer Saunders, and wonders if anybody can guess who is the nicer person, deep down out of the two of them?